AUTHOR: Dominique Holmes
I must say this is by far the best ideas and resources that I have to share. Even if you are on a budget or you are just vary  tight down to the last penny you will still be able to entertain your little guess.
Some 157 million Americans will join you in celebrating Halloween this year and will together spend an estimated $6.9 billion on the holiday, according to the National Retail Federation.
Kids' or adults' Halloween parties can be successful without spending a fortune. I've put together a plan you can implement for your own upcoming Halloween parties, including décor, food, and tips to save money on all the above.
We've got even more easy and cheap Halloween ideas, like these 10 Halloween hacks and 16 DIY treat bags and boxes!
As much as we love Halloween parties, the thought of throwing one ourselves can give us the creeps as much as the holiday itself. There's the planning, the cost, the costume. But with a few simple tips, you can throw a spooktacular one, and on a budget at that! Here's how:
REVISIT LAST YEAR'S HAUNTS
No Halloween get-together is complete without a well-dressed host or hostess. But costumes can sometimes cost upwards of $100. That Star Wars Chewbacca costume you're eyeing from Spirit Halloween, for example, costs $129.99 .
If you've dressed up in the past, you don't need to buy a new Chewie costume this year — or any new outfit for that matter. Halloween only comes around once a year, which means those costumes you wore in 2014 and 2013 likely haven't left your closet since then.
Ask people to wear costumes. Half the fun of attending a Halloween party is checking out what everyone put together to wear. If you have to skimp on decorations, don't worry! Costumes are a great way to still create a festive holiday atmosphere that doesn't cost you a dime!
Step 1: Pick your theme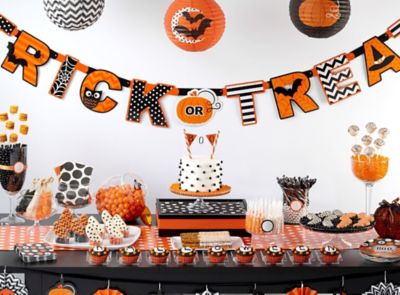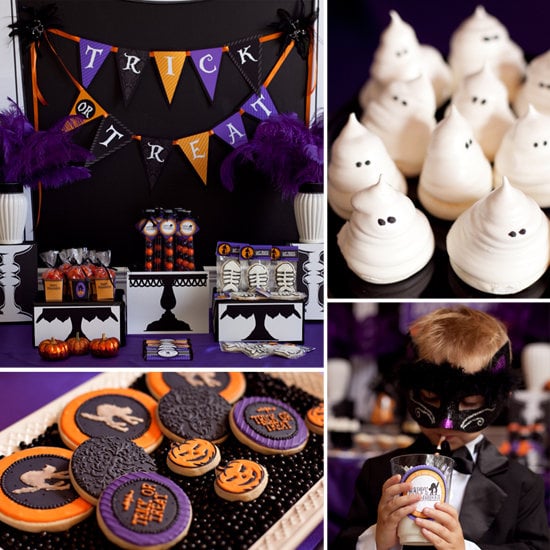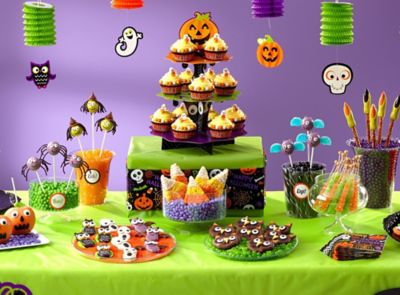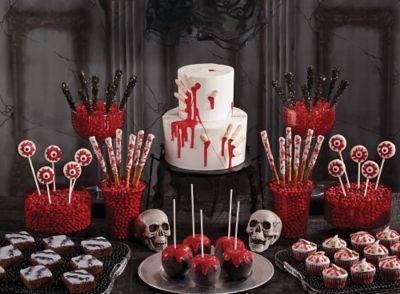 This is the first thing to do once you have a date set. Do you want a scary party or a lighthearted Halloween party? Do you like ghosts and goblins or love pumpkins?
Picking the theme for your Halloween party narrows down your choices and gives you a color scheme. Some popular Halloween party color combos include:
Black and orange
Black, orange, and purple
Black and white
Purple and green
Add a metallic color


SPLURGE ON THE SCARY

Once you've invited your guests and begun budgeting for your bash, decide how much you want to spend. We recommend devoting these funds toward splurging in one important area and saving on the rest.

For instance, set the spooky mood with the Chauvet Hurricane 700 fog machine, which costs $39.99 on Amazon. Or, for roughly the same price, you can get the Home Accents Holiday 36-inch Animated Butler with Serving Tray indoor figurine from Home Depot for $39.98.

That way your guests will focus on the cool special effects, rather than on other decorations that might be lacking.
MAKE YOUR OWN DECORATIONS
You can't have a Halloween party without decorations, but who wants to spend a fortune on them? To really cut down on your costs, make decorations yourself using supplies you already have at home or low-cost ones you can buy at the local craft store.
Head to sites such as:
for a little DIY inspiration. For example, apply glow-in-the-dark paint to pumpkins, or put dead flowers and leaves in a vase for an eerily festive centerpiece. Set the scene even more by switching out regular light bulbs for inexpensive colored bulbs and throwing black sheets over furniture.
Step 2: Search for free Printable Invitations
Send out an email invite. Unless you're having a formal affair like an engagement party or a baby shower, there's no reason to waste money on paper invitations anymore. Sites like Facebook and Evite make it easy to contact all of your friends and gather RSVPs for events – for free.
Halloween invitation templates
Trick or Treat! Find invites for the kiddies or adults to a ghoulish affair
Just click the blue link to your favorite one!
Now that you have a theme. We've created some more that you can download for free right here, or you can check on Pinterest — just remember to follow The Good Stuff while you're there! To download your free Halloween printables, click on the links below.
It's a Halloween Party invitation
A Spooktacular Night to Remember invitation
Happy Halloween! cupcake toppers
Step 3: Shop at home
The best way to save money is to first look around your house and see what you already own. Dig out your Halloween stuff from previous parties and see what matches your theme for this year. Re-purpose items: Signs can turn into banners and props can be grouped together to form a table setting or entry area.
Better yet, get your DIY on and see what you can make. Here are a few DIY Halloween party ideas to get you started.
Step 4: Visit the dollar store
The local dollar store or the dollar aisles at many of our favorite stores are filled with seasonal items. You can get everything from table decor to paper products for $1-$3 dollars per item.
Before you stock up on Halloween props, décor, and paper products at your local dollar store, be sure to check for Family Dollar, Dollar General, and Dollar Tree coupons!
Step 5: Gather everything together
Now the creativity starts. Bring home and gather all your dollar store items, printables, and finds from home on a table. Group each item into one of the following categories so you can easily see if you're missing anything:
Table decor
Room decor
Entry decor
Place settings
Party favors
If you notice anything missing, ask a friend for help. You might remember a cute little item your friend had at their party last year. If so, call and ask if you can borrow it for the evening.
Step 7: Make it a potluck
Let your guests get in on the fun by making it a potluck. Assign easy-to-bring items like appetizers, drinks, and desserts. These are easy for people to buy if they don't want to make, and you can provide the main course.
These tasty pumpkin dishes would work perfectly at any Halloween party.
Unless you're interested in cooking a full-fledged feast for everyone on your invite list, shoot to start the party a little later than dinnertime (like around 8 PM). That way, guests won't expect to be fed, and you'll be able to get by with serving h'orderves like tombstone pudding cups.
Step 8: Select your signature drink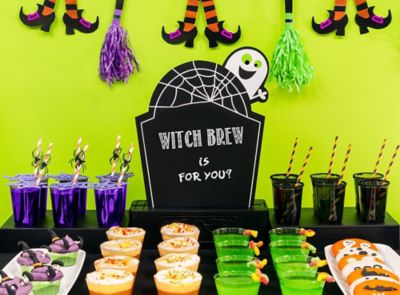 click this link if you want more info on these really cool party drink ideas for kids
Find the perfect signature drink for your party and offer that along with water, wine, and beer. This way you don't have to offer a wide range of mixed drinks, which will save you money. These three takes on pumpkin ale are in perfect keeping with the fall vibe and taste delicious, too!
Step 9: Create your party food
Make a festive cake or cupcakes for your party — they can even become part of the table decor. Use mixes from the grocery store to save time, and don't forget to check for weekly coupons to see how you can save before shopping.
1. Miniature Candy Kettles, 12 pk — $5.49 (reg $11.99)
Free Shipping with Amazon Prime or $35 Purchase
Final Price: $.46 each shipped
2. Inflatable Vampire and Coffin Cooler — $26.25 (reg $31.50)
Free Shipping with Amazon Prime or $35 Purchase
Final Price: $26.25 shipped
3. Plastic Halloween Food Picks, 72 ct — $5.99
Free Shipping with Amazon Prime or $35 Purchase
Final Price: $5.99 shipped
4. Glow-in-the-Dark Soda Bottle Labels, 4 ct — $4.04 (reg $5.99)
Free Shipping
Final Price: $4.04 shipped
5. 20 Foot Hanging Halloween Spider — $7.25 (reg $12.95)
Free Shipping with Amazon Prime or $35 Purchase
Final Price: $7.25 shipped
6. Medium Assorted Toys, 100 pk — $14.25 (reg $38.33)
Free Shipping with Amazon Prime or $35 Purchase
Final Price: $14.25 shipped
7. Skull & Bones Ice Mold — $6.02 (reg $6.99)
Free Shipping with Amazon Prime or $35 Purchase
Final Price: $6.02 shipped
8. Jack-o-Lantern Luminary Bags, 12 pk — $7.39 (reg $6.99)
Free Shipping with Amazon Prime or $35 Purchase
Final Price: $7.39 shipped
9. Orange Carnival Tickets, 2000 ct — $3.40 (reg $4.32)
Shipping = $1.99
Final Price: $5.39 shipped
10. Crime Scene Caution Tape, 50 ft roll — $4.99
Free Shipping with Amazon Prime or $35 Purchase
Final Price: $4.99 shipped
11. Zombie Treat Bags, 12 pk — $9.99
Free Shipping with Amazon Prime or $35 Purchase
Final Price: $.83 each shipped
12. Glow-in-the-Dark Halloween Wine Bottle Labels, 8 pk — $5.72 (reg $9.99)
Free Shipping with Amazon Prime or $35 Purchase
Final Price: $.72 each shipped
Chocolate Graveyard Cake
Ingredients
1 box chocolate cake mix
3 eggs
Oil
Water
1 can chocolate frosting
1 can white frosting
1 cup Rice Krispies®
1/2 cup chocolate chips
1 teaspoon shortening or coconut oil
6-8 Milano cookies
Directions
Mix the chocolate recipe as directed on the package.
Pour into a 13×9 pan that's been coated with oil or butter. Bake as directed on the package. Remove from oven and cool.
While the cake is cooling, lay out 5-6 Milano cookies. Melt the chocolate chips with the shortening in the microwave for 30-second intervals. With a skewer or toothpick, write "RIP" or your guests' names on the cookies and let dry.
Top cake with chocolate frosting, then sprinkle with crushed Rice Krispies®. Place cookies upright on top of the cake.
Place white frosting in a plastic bag and cut off the end. Pipe 4-5 ghosts on top of the cake and place little pieces of chocolate chips to make the eyes.
Click this link if you would like to get more food recipes
Mummy Pizzas – Use an English Muffin or a slice of bread. Add sauce and toast, then add cheese and black olives.
Slimy Hands: Green Jell-O poured into vinyl gloves. Chill until set. Peel off gloves and lay on tray.
Frankenstein Rice Krispies – store-bought or homemade Rice Krispies + green melting chocolate & black icing
Floating Eyeballs (frozen grapes floating in punch)
Decorations: Stock up on cheap items that go a long way, like small pumpkins and caution tape, but don't forget the power of DIY. Ghosts made out of jars and lollipops are both time and cost effective!
Night hour: Consider hosting your fete later in the evening, past dinnertime. This way, you won't have to provide elaborate dishes but can stick to appetizers like chips and veggie plates.
Costume contest: The most important part of any party aren't the decorations or the amount of alcohol, but how much fun people have. Tell guests ahead of time to expect a costume contest so they'll be dressed in their best. It'll add a competitive but fun element that makes for the most memorable of Halloween parties.
BOB FOR APPLES
To keep your party going, you'll need some form of entertainment. Thankfully, you can keep your ghouls and goblins satisfied with games that are also affordable for you.
Examples of inexpensive games include bobbing for apples (you just need to buy a bag of the forbidden fruit), truth or dare (create the questions and challenges yourself), costume contest (have guests come dressed according to a theme), face painting (buy inexpensive face paint), flashlight tag (ask guests to bring their own flashlights), hide and seek (totally free) and charades (also totally free).
Play a scary movie. Need some fun ambience? Throw a classic horror film on in the background. You can leave the sound on for added spooky thrills or just have the visuals for people to enjoy.
Put on some spooky tunes. If you have music on your iPod that will set the mood, create a special playlist for the event. Don't have anything? No worries! Try Pandora's free Halloween station. You can hook your computer up to speakers or your TV.
SUSPEND SHOPPING
Finally, try to suspend shopping for your Halloween shindig until the very last minute. Stores will be extra eager to clear out remaining Halloween inventory the closer to the holiday you wait.
Additionally, retailers have been known to host Halloween-inspired sales on or just before the holiday. Last year, for instance, Kohl's gave shoppers a promo code and in-store coupon pass that could be used to take 15% off their purchase . Take advantage of promotions like these so you won't pay full price for the purchases you do need to make.
Prevent Cleanup Costs
A big hidden cost of throwing a party is the aftermath! To prevent spilled wine from ruining a good time, move any fragile items and easy-to-dirt-up furniture (like a white couch) out of the line of fire and into a room that the party won't be in.
Also, cover up tables with tablecloths or old scarves to prevent drink rings. Bonus: Throw some red paint on an old, white tablecloth. Bam! A haunting Halloween decoration that will prevent a mess.
Happy Halloween!